German carmakers and politicians agree on a deal to cut harmful emissions
Comments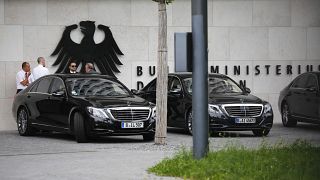 German carmakers have agreed with top politicians to cut harmful emissions by updating the software in 5.3 million diesel-powered vehicles.
The deal with Daimler, BMW, Volkswagen and Opel is aimed at reducing inner-city pollution whilst averting bans of diesel vehicles.
The new engine management software aims to make exhaust filtering systems more effective and bring down their emissions of nitrogen oxide by 25 percent to 30 percent.
Transport Minister Alexander Dobrindt said the carmakers would also self-fund incentives aimed at encouraging consumers to trade in diesel cars that were 10 years old and older for newer models with lower emissions.
Since Volkswagen admitted to cheating U.S. diesel emissions tests in September 2015. Chancellor Angela Merkel's government has come under fire for not doing enough to crack down on vehicle pollution and for being too close to powerful carmakers.
The issue has become a central campaign topic ahead of next month's national election, prompting the government to show it is taking action as environmental groups try to force bans on diesel vehicles.
During the summit, activists from Greenpeace hung a banner across the facade of the German transport ministry proclaiming "Welcome to Fort NOX", a play on the abbreviation for the toxic nitrogen oxides (NOx) emitted by diesel vehicles.
"The diesel summit is defending worn-out diesel technology as if it was gold in Fort Knox," Greenpeace said in a tweet, referring to the U.S. military post where gold is stored.
But ministers are also wary of angering the drivers of 15 million diesel vehicles and damaging an industry that is the country's biggest exporter and provides about 800,000 jobs.
The move should reduce pollution at least as much as driving bans proposed in major cities, the VDA carmakers lobby said in a statement, adding: "The car industry knows it has lost a lot of trust. We must and will work on winning back that trust."
The stakes have increased for German carmakers in recent weeks. Britain and France have announced plans to eventually ban all diesel and petrol vehicles and Tesla has launched its first mass-market electric car.
Environment Minister Barbara Hendricks, from the centre-left Social Democrats, said software updates would just be a first step and the government would continue discussions with the car industry on further measures to cut emissions.