'You're fired!': White House communications chief ousted
Comments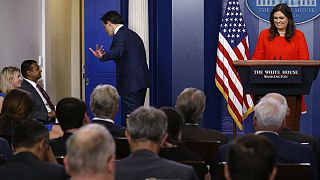 Anthony Scaramucci has been sacked by President Donald Trump just 10 days into his role as White House Communications Director.
The shock development follows a tumultuous week for the outspoken former Wall street financier which saw him give a series of turbulent media appearances, and was capped with by an expletive-filled rant about his colleagues in a phone call to a reporter.
His appointment as director of communications was marred by two high-profile resignations within the White House, with Press Secretary Sean Spicer and Chief of Staff Reince Priebus leaving their posts – the latter having been referred to as a "paranoid schizophrenic" by Scaramucci.
White House Press Secretary Sarah Huckabee Sanders said: "The president certainly felt that Anthony's comments were inappropriate for a person in that position and he didn't want to burden General Kelly also with that line of succession."
The news of Scaramucci's demise broke just hours after General John Kelly was sworn as the new White House Chief of Staff on Monday.
Reports suggest that the spin doctor was removed at Kelly's request.
According to Sanders, the move was designed to give Kelly "a clean slate and the ability to build his own team".
She said Scaramucci would not be moved to another White House role and wished him "all the best".
Trump tried to play down speculation about fighting within the White House ranks. Apparently unmoved by the hectic week, the president chose to focus on the positives.
Highest Stock Market EVER, best economic numbers in years, unemployment lowest in 17 years, wages raising, border secure, S.C.: No WH chaos!

— Donald J. Trump (@realDonaldTrump) 31 July 2017
He emphasised that there was "no chaos" within his administration and that it had been "great day" at the White House.
A great day at the White House!

— Donald J. Trump (@realDonaldTrump) 31 July 2017