Dozens wounded as Palestinians clash with Israeli security forces in Jerusalem
Comments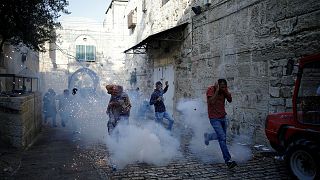 There have been chaotic scenes at Jerusalem's Al-Aqsa Mosque as thousands of Muslims poured through the gates to pray.
This just hours after Israel lifted controversial security measures amid days of violent demonstrations and numerous deaths.
More than 100 people were hurt in scuffles with police, with officers using stun grenades to try to control the crowds.
The u-turn by the Israeli government, with the removal of metal detectors and security cameras, is being celebrated by Palestinians.
In the West Bank Palestinian security forces handed out sweets to passersby.
The climb-down came after lobbying by the UN, the US and Muslim Arab nations in the region.
Opponents of the Israeli Prime Minister Benjamin Netanyahu accused him of weakness.