Sri Lankan navy saves two elephants washed out to sea
Comments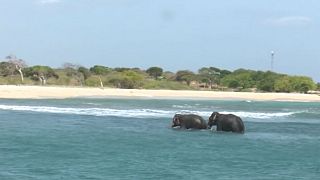 Two wild elephants were rescued by the Sri Lankan navy on July 23 after becoming trapped at sea.
The navy and wildlife officials undertook a joint rescue mission, which lasted around five hours, tying long ropes around the creatures and towing them safely back to shore.
A team of naval divers were also deployed after the mammals were spotted by an Inshore Patrol Craft on a routine sea patrol.
The rescue comes just two weeks after another elephant was rescued from a similar position off Sri Lanka's northeastern coast.