Israel to remove metal detectors from holy site
Comments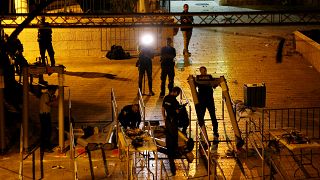 Israel has said it will remove the metal detectors it placed at the entrance to a holy site in Jerusalem's Old City.
They say they will replace them with less obtrusive security measures such as special CCTV.
On Monday, the United Nations Middle East envoy warned that both sides in the crisis must reach a solution before Friday. Nikolay Mladenov said: "Nobody should be mistaken that these events are localised events. They have the potential to have catastrophic costs well beyond the walls of the Old City, well beyond Israel and Palestine, well beyond the Middle East itself."
Mr Mladenov was speaking after a closed meeting of the U.N. Security Council and said the situation was likely to escalate if they went through another cycle of Friday prayers.
The 15-member Security Council met to discuss the crisis at the request of Sweden, France and Egypt.
Israel's security cabinet voted to remove the metal detectors on Tuesday morning. They were installed at entry points to the al-Aqsa Mosque compound after two police guards were shot dead on July 14.
The security measure had triggered the bloodiest clashes between Israelis and Palestinians in years.