Death penalty handed down by Cairo court
Comments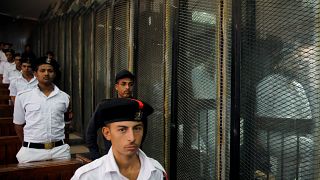 A Cairo criminal court has sentenced to death 28 people over the 2015 killing of Egypt's top prosecutor after the death penalty was approved by
the country's foremost religious authority. It also jailed 15 others for 25 years each.
Public prosecutor Hisham Barakat was killed in a car bomb attack on his convoy in the capital, an operation for which Egypt blamed the Muslim Brotherhood and Gaza-based Hamas
militants. Both groups have denied having a role.
The defendants said they were forced to confess under torture and their lawyers asked that they be medically examined.
Egypt faces an Islamist insurgency led by Islamic State in North Sinai, where hundreds of soldiers and police have been killed.