Britain and EU still at odds over citizens' rights
Comments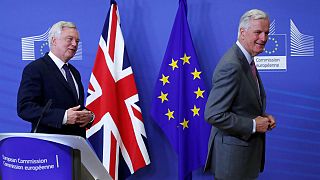 The second round of Brexit negotiations have come to an end with British and EU citizens who feel their lives are in limbo, able to take little comfort from progress so far. The EU's chief Brexit negotiator Michel Barnier again once drew a red line under citizens rights.
European Union's chief negotiator Michel Barnier said on Thursday that a "fundamental divergence" remained with Britain on how to protect expats' rights after Brexit, and urged clarifications on the financial settlement and the Irish border.
Speaking after the end of the first full round of Brexit talks, Barnier insisted that the European Court of Justice should be the guarantor of the rights of citizens living abroad.
In a joint news conference with British Brexit Secretary David Davis, Barnier said Britain needed to provide clarifications on the Brexit bill and on the Irish border at the next round of talks in late August.
Although nothing appears to be decided so far, David Davis, the UK Brexit secretary suggested that some clarity on positions had been gained.
But it seems that unless agreements can be made soon, negotiators for the myriad of other subjects including trade and business are fast running out of time.
​
Watch the press conference in full
​