Turkey reacts angrily as Germany piles on pressure
Comments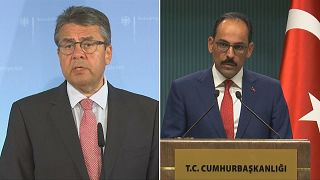 Turkey has reacted angrily to pressure from Germany to release the six human rights activists it is continuing to hold in pre-trial detention, one of them a German national.
Berlin has warned there will be economic penalties and it's also issued travel warnings for tourists headed to Turkey's Mediterranean beaches.
German FM says despite new policy, #Germany is still interested in #Turkey relationship…But, it takes two to tango https://t.co/JCShAqWDNRpic.twitter.com/uwulIuIpPB

— DW | Politics (@dw_politics) July 20, 2017
In response, Turkey's presidential spokesman said Germany was being disrespectful. "They will respect the judiciary here. We strongly condemn statements saying German citizens coming to Turkey are not safe and German companies in Turkey have concerns," Ibrahim Kalin told reporters.
Both countries are NATO allies which further complicates the downward trend in their relations. Germany's mass-selling daily Bild newspaper, citing government sources, reported that Berlin was also putting arms projects with Ankara on hold.
German's foreign minister on Thursday said he wanted Turkey to halt its path to authoritarianism after a government crackdown following last year's failed coup. More than 50,000 people had been arrested but it was the detention of a German national that finally prompted Berlin to react. Germany's foreign minister Sigmar Gabriel urged Ankara to return to "European values and the respect for freedom of opinion and the press."
"We want Turkey to become a part of the west, or to remain where it already was. But it takes two to tango," he added.