Salvador Dali exhumed for paternity test
Comments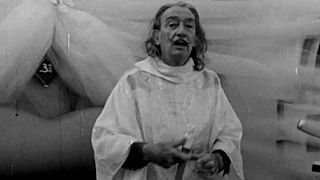 The body of surrealist artist Salvador Dali is being exhumed from the Dalí Theatre-Museum in Figueres, north-eastern Spain. Samples will be taken from his body for a paternity test after a woman claiming to be his daughter won her case in court last month.
I'm in the town where Salvador Dalí is buried, on the day he is being exhumed. pic.twitter.com/lKU73qphQY

— Robbie Richardson (@londonmikmaq) July 20, 2017
Maria Pilar Abel claims that Dali had a secret affair with her mother when she worked for his family in the 1950's. But this has been disputed by the Gala-Dalí Foundation, which led to a ten-year battle between the two parties.
But for Abel, this isn't about the inheritance that she would be entitled to. When asked what she hoped to achieve from confirming Dali was her father, she said:
"First of all my identity, I want to know who I am. That is what I hope for. To know the truth."
Dali transformed reality – for himself and for others. #TransformationTuesdayhttps://t.co/V4axEGwJ2Zpic.twitter.com/KvpSB5kpUe

— The Dali Museum (@TheDali) July 18, 2017
Dali, who died in 1989 aged 84, was one of the most famous artists from the 20th century surrealist period. He painted pictures such as the melting clocks in the 1931 work "The Persistence of Memory" but he also turned his hand to movies, sculpture and advertising.
The eccentric artist, recognisable by his long, waxed moustache, was known for outlandish behaviour, giving lectures in an old-fashioned deep-sea diving suit and driving from Spain to Paris in a white Rolls Royce car filled with cauliflowers.