Play politics: world leaders show their sporting prowess
Comments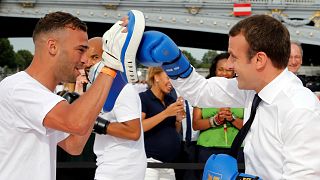 Sport and politics do not make easy bedfellows – one is serious, the other often an escape from such deep issues.
Yet politicians cannot seemingly resist a photo opportunity with a ball or racket – a chance to show the electorate of their virility.
Here is our selection of world leaders playing sport – from Donald Trump's mean swing to Erdogan's delightful lob.
It also includes new French president Emmanuel Macron trying his hand at tennis and boxing in Paris.
It was part of a special day in France's capital that saw sports opened up to the general public, in a bid to persuade the IOC to aware the city the Olympic Games in 2024 or 2028.