Berlin pressures Turkey over detention of rights activists
Comments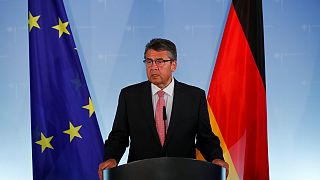 Germany has warned its citizens to be more careful when visiting Turkey, saying some Germans have been detained by the authorities without access to consular services.
The warning comes as Turkey continues to detain six human rights activists. They include Idil Eser – Amnesty's Turkey director, three Turkish nationals, German national Peter Steudtner and a Swiss national.
Horrible update: Idil, amnesty</a> Turkey director, held in solitary confinement 24h, no access medication yet, only visitor lawyer 1 hr/week. <a href="https://t.co/9qlTA1uOX9">pic.twitter.com/9qlTA1uOX9</a></p>— Gauri van Gulik (GaurivanGulik) 19 juillet 2017
Gabriel broke off his holiday to return to Berlin and deal with the detentions, the latest in a series of diplomatic rows.
"No one can advise anyone about investing in a country if there is no legal certainty there, and even companies are associated with terrorists, and there are already examples of expropriation, so I do not see that we as a federal government can continue to guarantee German company investments in Turkey," Germany's foreign minister Sigmar Gabriel he said.
Gabriel also hinted there would be economic consequences to Turkey's actions.
"And I must say frankly that I can not imagine that there are negotiations on the extension of the Customs Union if citizens of the European Union are detained in Turkey without any basis," he told reporters.
Following the jailings of journalists and human rights activists, German FM #Gabriel has revised #Germany's advice for traveling to #Turkey: pic.twitter.com/fSPn79v7xL

— DW | Politics (@dw_politics) 20 juillet 2017
Turkey is the only state outside the European Union to have a customs union with it, enjoying low or no tariffs on its exports to the bloc.
Later a spokesman for President Tayyip Erdogan said Gabriel's statements were unacceptable, adding that it Germany who was treating many innocent Turks as spies.
The spokesman also said Germany needs to accept the independence of the Turkish judiciary.
Turkey has also accused Berlin of supporting a U.S. based Muslim cleric it charges with engineering the coup, and of harbouring Turkish army officers seeking asylum in Germany.