Turkey's EU Affairs Minister in Brussels amid pressure over human rights
Comments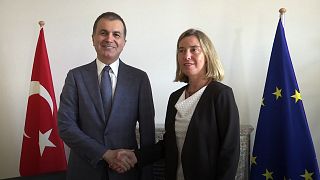 Turkish Minister for European Affairs Omer Celik met with EU foreign affairs chief Federica Mogherini, Tuesday, for the first time after the EU Parliament formally asked for the suspension of accession talks.
The same day, Amnesty International accused Ankara of a "politically motivated witch-hunt", following the arrest and detention of the organisation's local director and other activists.
They are accused of belonging to a terrorist organisation.
But Amnesty International's Europe Director Iverna McGowan told euronews they will refuse to close their Turkish office.
"We will not rest until our colleagues and human rights defenders are released. Having said that, of course, under these circumstances, we will be keeping the security of our staff under very close review", McGowan said.
She added that: "the EU is very clear in support for human rights defenders on paper, but the response so far has been quite muted. Next week, the Turkish Foreign Minister is travelling to Brussels and we will be strongly calling on Federica Mogherini, as High Representative, to speak out publicly and very purposely against this outrageous injustice in Turkey".
Idil Eser was one of 10 activists, including German and Swedish nationals, detained on July 5 while attending a workshop on digital security near Istanbul.
Their arrests are widely seen as part of President Erdogan's crackdown on followers of the cleric Fethullah Gulen following 2016's failed coup.