Silk Way Rally Stage 11: short and fast
Comments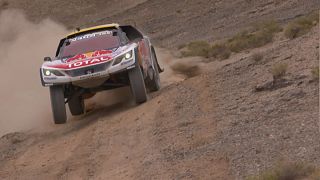 Stage 11 of the Silk Way Rally was a fast one, despite gravel and dust slowing some drivers down.
It was also shorter than expected. The first 251km special, in the dunes, was cancelled due to being situated in a protected nature reserve.
Cars
Stephane Peterhansel won his fourth stage in the cars by one minute, 13 seconds.
"In the middle of the stage I was blocked by two cars – there was a lot of dust and it wasn't possible to overtake, so I had to wait for a few kilometres. After we got past them it was much better, and the end of the stage was fast and technical, and felt really good. The car was perfect, so we had a lot of pleasure today," he said.
Cyril Despres retains the overall lead, while American rookie Bryce Menzies moved up to second.
His Mini teammate Yazeed Alrajhi led for most of the day, but eventually finished the stage in third place.
Trucks
In the Trucks, Martin Kolomy claimed his third stage win of the rally and sneaks into third place in the overall standings.
Second-placed Anton Shibalov has closed the gap with leader Dmitry Sotnikov to 14 minutes 54 seconds.
The drivers will now gear up for two of the rally's hardest stages, 12 and 13, which could well determine who will be standing on top of the podium in Xi'an on Saturday (July 22).