Hungary pledges support for Israel during Budapest talks
Comments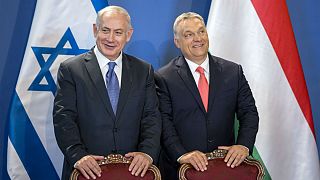 Hungary's Prime Minister has hosted Israeli counterpart, in a visit overshadowed by accusations of anti-semitism.
Vicktor Orban offered his support to Benjamin Netanyahu, who is seeking to strenghten Israel's ties with countries who will defend its interests.
The visit comes amid the Hungarian government's flirtation with the radical right, which has unnerved with local Jewish population.
Orban has praised Hungary's inter-war leader Miklos Horthy, a Hitler ally, and used an image of Jewish financier George Soros in an anti-immigration billboard campaign.
However, the leader has repeatedly pledged zero tolerance of anti-Semitism.
Netanyahu wants pragmatic partners from the European Union, who will not object to Israel's controversial settlement policies.
After talks in Budapest, Mr Orban said: "On behalf of the Hungarian government I made it clear that we recognize the right of Israel to defend itself, and we also expect others to recognize our right to do so."
Mr Netanyahu said: "I also want to thank you prime minister for standing up for Israel in international forums. You have done that time and time again, we appreciate this stance not only because it is standing with Israel, but its also standing with the truth."
His visit to Hungary is the first by an Israeli leader since the fall of communism.
He will also meet the Polish, Czech and Slovak leaders in Budapest on Wednesday.