World Aquatics Championships opening ceremony
Comments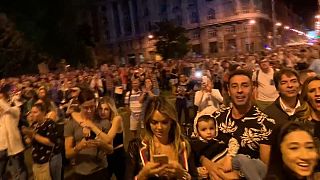 Crowds in Budapest witnessed spectacular scenes at the opening ceremony of the World Aquatics Championships, the biggest sporting event ever staged in Hungary.
Budapest stepped in to stage the event after the original hosts in Mexico pulled out due to fears over falling oil prices two years ago.
Some 2,500 athletes are competing in more than 200 events, including synchronised swimming, diving and water polo.
Euronews correspondent Ferenc Horvath noted that the cost of producing the opening extravaganza may break records. However, over the next 14 days it is the athletes' turn to break some records of their own!
The 17th FINA World Aquatics Championships officially got under way in Budapest with the … – https://t.co/cbSFJNZlfP

— Daily News Hungary (@DNewsHungary) July 15, 2017