French PM lures London's financiers to Paris
Comments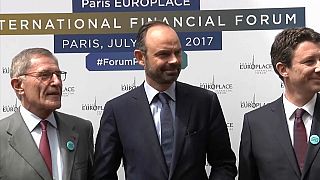 French Prime Minister Edouard Philippe told an international finance forum in Paris on Tuesday that he wants to see the city become "Europe's new number one financial hub after Brexit."
Are you in finance? Come to Paris! Find out what France is doing to make Paris the #1 financial center in Europe: https://t.co/bTpxrYE8nYpic.twitter.com/Il2ReRdgVu

— Edouard Philippe (@EPhilippePM) July 7, 2017
Paris is competing with Frankfurt, Dublin and Luxembourg, who've so far been more successful at attracting financial talent from the City of London where banks and financial services have long been planning potential post-Brexit moves to more euro-friendly capitals.
And to further convince the forum that he means business, Philippe even resorted to speaking in English in laying out what incentives are on offer: "This package is powerful, it addresses taxation, labour law, the business-friendly environment and also international schools," he said.
But London is fighting hard to stem the flow and Prime Minister Theresa May's government has already said it will lower corporation tax by 19 percent to just 17 percent by 2020.
That is far more attractive than France's offer of lowering it from 33.3 percent currently to 25 percent by 2020.
The financial stakes are massive, nearly 80 percent of foreign exchange trading and around a third of all bank lending in the EU is done in the UK.
And the bloc has already drafted a law enabling it to move the profitable euro-clearing business out of London altogether.