Displaced Iraqis mull returning home to Mosul
Comments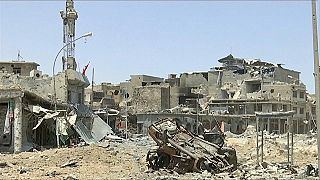 People displaced from the Iraqi city of Mosul have spoken of their hopes for the future.
The nine-month battle to retake the city has killed thousands and forced about 900,000 to leave their homes.
The UN says most of those are still displaced.
"My house was bombed by an airstrike of the coalition," explained Khalaf Abdul Hamid. "There were ISIL fighters in it, they bombed it and the second floor collapsed so just the ground floor remains but it's not enough space for me and my family, so we'll stay here until security gets a little better and I will go back to my house, God willing."
However, with entire blocks levelled by airstrikes, it is not clear where many of the displaced will return to.
Mosul, "liberated" pic.twitter.com/373apJjhay

— ian bremmer (@ianbremmer) July 10, 2017