Show of Chinese military might in Hong Kong
Comments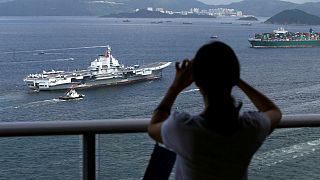 It was a show of China's military clout amid growing regional tension.
The country's first aircraft carrier has sailed into Hong Kong, on its maiden voyage to the area.
The arrival is part of celebrations marking the 20th anniversary of the handover of Hong Kong from British to Chinese rule.
The carrier was accompanied by several other naval ships and jet fighters and helicopters were visible on the deck.
It was a significant event for Hong Kong, which is more used to hosting US and other foreign warships.
A former Russian aircraft carrier, it was refitted for the Chinese navy in 2011.
The vessel was recently involved in military exercises in the Taiwan Strait.
The drills were closely watched by military officials in Taiwan, which Beijing regards as a breakaway province.