Caster Semenya may have to take medication as study reopens testosterone debate
Comments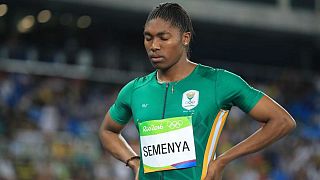 Female athletes with high levels of testosterone, like South African Caster Semenya, may be forced to undertake hormone treatment to compete in future events after a study showed they have an advantage over their rivals.
The research, funded by the World Anti-Doping Agency and the International Association of Athletics Federations, found that female athletes with very high levels of naturally occurring testosterone had an edge of at least 4.5 percent on competitors with lower levels.
Results published in the British Journal of Sports Medicine analysed over 2,100 androgen samples from athletes participating in the 2011 and 2013 World Championships.
Athletes showing the highest levels of testosterone performed significantly better than those with the lowest levels – notably in the 800m (1.8% faster), 400m (2.7% faster) and the 400m hurdles (2.8% faster).
Individuals with high levels competing in the pole vault could jump 2.9% higher and in the hammer throw could project 4.5% further.
The IAAF's hyperandrogenism regulations, which define the scientific consensus that the difference between sexes in sports performance is mainly due to the marked difference in male and female testosterone levels, were suspended for two years on July 27, 2015, during a case involving the Indian athlete Dutee Chand.
The IAAF is set to challenge this later this month and the study could provide the missing evidence to turn around the 2015 ruling, which deemed that the regulations be suspended until the impact of circulating androgens on sporting performance could be proved.
The study will almost certainly reopen the case concerning the handling of female athletes with hyperandrogenism – a condition which causes them to produce higher than average levels of male sex hormones, including testosterone.
Before the ruling, Semenya and others like her were taking medication which suppressed their levels of testosterone in order to abide by regulations for female athletes.
They could be forced to restart hormone replacement therapy (HRT) or even consider surgery if the hyperandrogenism regulations suspension is lifted.
"Our starting position is to defend, protect and promote fair female competition," said Stephane Bermon, one of the study's authors.
"This study is one part of the evidence the IAAF will be submitting … regarding the degree of performance advantage that hyperandrogenic female athletes enjoy over female athletes with normal testosterone levels."
The IAAF is withholding comment until the case is closed.