FARC leader 'Timochenko' suffers stroke
Comments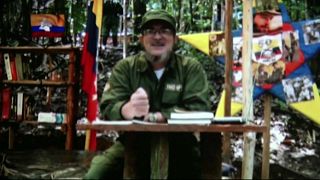 Colombia's FARC rebel leader, Rodrigo Londono who is more commonly known by his nom de guerre Timochenko, has suffered a stroke and has been taken to Hospital.
Doctors say the 59-year-old who in November signed a peace agreement with the government after four years of negotiations, should be well enough to leave hospital within 48 hours.
Last month the leader oversaw the disarmament of his 7,000 or so rebels at a ceremony with president Juan Manuel Santos.
The FARC, which was founded as a peasant rebellion in 1964, has fought more than a dozen governments in a war that has killed more than 220,000 and displaced millions.
Timochenko became commander of the left-wing rebel group in 2011, when its then leader, known as Alfonso Cano, was killed by the Colombian armed forces.
#Colombia#FARC leader Timochenko has stroke, in intensive care. LAHT</a> <a href="https://t.co/vafv0Vj49m">pic.twitter.com/vafv0Vj49m</a></p>— LatAm Herald Tribune (LAHT) July 2, 2017