Japan rules the roost at the Hohhot Grand Prix
Comments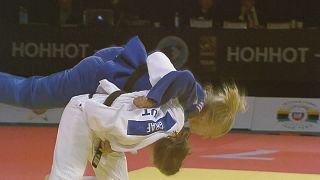 There was no let-up of thrills and spills on the third day of judo at the Hohhot Grand Prix in China. It was the Olympic and world champions who ruled the final day as the focus now turns to the 2017 Suzuki World Judo Championships in Budapest, Hungary from 28 August – 3 September.
Japan emerged top of the class at the tournament going home with five gold and three bronze medals. Russia won two gold, three silver and six bronze medals.
Woman of the day
Graf is now a two-weight contender after Hohhot gold
Bucharest European Open winner Bernadette Graf was our woman of the day because she won gold one weight up from her normal division of under-70kg with a spectacular ippon.
The 25-year-old Austrian had the measure of The Netherlands' Karen Stevenson in the under-78 kilogram category with a Utsuri Goshi.
Graf says she will be working hard over the coming months to repeat the result at the world championships in Budapest:
"First preparation we will have in Austria on a mountain,[where we will do] some cycling, walking and swimming. And then we go to Japan for two weeks to the national training centre where we will finalise our preparation."
Bernadette Graf creates new possibilities with another gold medal U78kg https://t.co/5cNhlgQdnF Polleres and Krssakova can benefit from Graf pic.twitter.com/hiv32Zpn95

— JudoInside.com (@JudoInside) 2 juillet 2017
Man of the day
Lukas Krpalek was our man of the day. He is reigning under-100kg Olympic champion but, like Graf, he has moved up a category, to over-100kg, and he now has a second world judo tour gold in the weight.
But to win the Czech had to come from behind twice.
First he went behind to Russia's Andrey Volkov by a waza ari in the semi-final. But he followed that up with one of his own and holding for ippon.
Krpalek did the same thing in the final against Duurenbaya Ulziibayar of Mongolia who put him down for a waza ari.
But the Czech had the final word with a sublime sumi gaeshi before holding for an ippon.
The 26 year old says put everything into his final push for gold: "When I went behind by the waza ari I knew I had to give my all for the win. I had to put everything in to that sumi gaeshi and then I followed it into the hold down. I am so happy I managed to get the win."
Ippon of the day
Kiriil Denisov of Russia literally swept Sweden's Joakim Dvarby off his feet for our ippon of the day in the under 100kg category.
Best of the rest
The reigning world champion Haga Ryunosuke of Japan was victorious in the under 100kg category, beating Denisov in the final.
World champion Haga triumphs in battle of attrition against Denisov https://t.co/dwEeHv7YW0#JudoHohhot2017 Who becomes the new World Champ? pic.twitter.com/MNlCpqevsJ

— JudoInside.com (@JudoInside) 2 juillet 2017
European Championships bronze medallist Khusen Khalmurzaev of Russia was the -90kg champion courtesy of a spectacular uchi mata against world number one Aleksandar Kukolj of Serbia.
We sign off with South Korea's Han Mi Jin left it late to beat Yelyzaveta Kalinina from Ukraine with a waza ari in golden score in the over-78kg section.