Europe pays tribute to German ex-Chancellor Helmut Kohl
Comments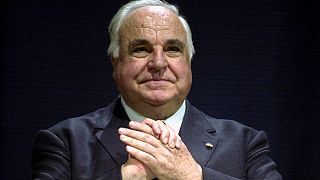 He was a passionate European.
And after tributes at home in Germany for the country's longest serving post-war chancellor, Helmut Kohl will be honoured on Saturday with a memorial service at the EU's Parliament in Strasbourg.
You can watch the full ceremony here (bottom of page).
Speakers will include German leader Angela Merkel, former US President Bill Clinton and French President Emmanuel Macron.
European Ceremony of Honour for Dr. Helmut Kohl on 1 July 2017​ in Strasbourg. pic.twitter.com/fgGC17gzrX

— European Commission (@EU_Commission) 20 juin 2017
Kohl, who died aged 87, served from 1982 to 1998. The architect of German reunification, he was also a driving force behind the introduction of the euro currency.
After the ceremony – the first time the EU has staged such a commemoration – a funeral service will be held in Speyer Cathedral in western Germany, near Kohl's former home in Ludwigshafen.
with Reuters