Germany pays tribute to Helmut Kohl
Comments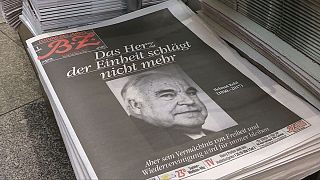 Only a handful of floral tributes were in evidence on Saturday outside the rather modest bungalow in the German town of Ludwigshafen to mark the passing of a giant figure of Cold War politics.
Former Chancellor Helmut Kohl, who died on Friday at 87, oversaw Germany's reunification in 1990.
They don't make politicians like Helmut Kohl anymore: pic.twitter.com/y5cJf5o4cI

— Björn Stritzel (@bjoernstritzel) June 16, 2017
As the Berlin Wall came down and the Soviet Union collapsed, Kohl worked alongside Russian President Mikhail Gorbachev to ensure a peaceful transition at what was a tumultuous moment in history.