Tributes paid to 'true European' Helmut Kohl
Comments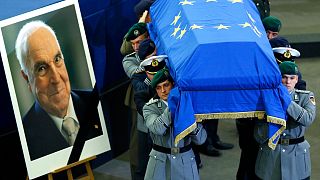 World leaders have paid tribute to Germany's former Chancellor Helmut Kohl during a ceremony inside the European Parliament in Strasbourg.
A giant of post-war German politics, Kohl oversaw German reunification.
He was also a major force behind European integration.
Former US president Bill Clinton, German chancellor Angela Merkel and French president Emmanuel Macron all spoke fondly of Kohl, who died aged 87 last month.
"Helmut Kohl was a true European and friend," said European Commission president Jean-Claude Juncker. "Europe owes him a lot."
Recalling the moment talks began to bring several Eastern European countries into the EU, Juncker also said:"During lunch, Kohl asked for permission to speak, exceptionally he asked for permission to speak, because he usually took to the floor. He asked and said, obviously moved with tears which prevented him from speaking, that this very day of the start of the accession talks (with Eastern Europe, Cyprus and Malta) was one of the most wonderful moments in his life. To live through this historic moment of the coming together of Europe as German federal chancellor profoundly moved him in his heart."
The ceremony in the European Parliament, which was attended by British prime minister Theresa May, came ahead of Kohl's funeral in the German town of Speyer later on Saturday.
One of the most moving eulogies was given by former US president Bill Clinton who said Kohl was dedicated to creating a world in which no one dominated.
"Helmut Kohl gave us the chance to be involved in something bigger than ourselves, bigger than our terms in office and bigger than our fleeting careers,'' Clinton said.
He added,"Sleep well my friend, the greatest gift you left us is the lessons, the things that matter most in life, is what we leave our children, the freedom, the peace, the security, to build our own prosperity, to chase our own dreams and to believe they can be very big, while lifting up not tearing down. You did a good job with your life. And those of us who shared it, loved you for it. Thank you!"
The two-hour memorial, in a city that has often changed hands and now lies in France, symbolised the role Kohl played in reconciling erstwhile enemies France and Germany while driving European integration forward.
"He was the architect of the world order," said Medvedev of Kohl, who skilfully negotiated reunification with communist East Germany with former Soviet leader Mikhail Gorbachev. "In Russia, we'll remember him as our friend — a wise and sincere person."
Kohl's coffin, draped in a European flag, was carried into the parliament by eight German soldiers.
A former minister in Kohl's government, current German Chancellor Angela Merkel also paid tribute to her mentor, insisting that it was up to today's generation to guard his legacy.
"Many of the things, that we take for granted, can be traced back to him: the unification of Eastern and Western Europe, the single market, the removal of border controls between the member-countries of the EU, and that most of these countries have a single currency, the fact that the European Union in her present form exists at all, all these things are and will continue to be linked with his name materially."
The tribute in the European parliament was the first of its kind to a political leader. Inside the assembly, Strasbourg's orchestra played both the German national anthem and Beethoven's Ode to Joy, the European Union's anthem.
Three bouquets of flowers were placed in front of the coffin, one in German colours, one on behalf of the European Union and another from his wife, which was marked 'In Leibe, deine Maike' (With love, Maike)
Watch the ceremony in full