Which countries are out of touch with citizens on gay marriage?
Comments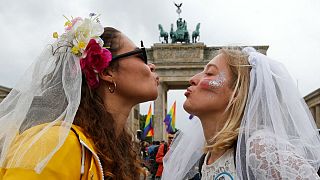 Portugal, Ireland, France, the UK, Finland and the Czech Republic are the countries most out of touch with their citizens over allowing gay marriage, according to Euronews analysis.
The Czech Republic is the only country in the bloc where a majority of people approve of allowing homosexuals to marry, but where it remains illegal.
A survey in 2015 found 52 percent of Czechs support its legalisation, above the EU average of 44 percent.
Every country where a majority support gay marriage has now made it legal – the latest being Germany.
The poll, conducted by Eurobarometer, reveals the majority of those surveyed in Ireland (see below), Finland, the UK and France were against gay marriage. All four have now made the practice legal.
It's worse in Portugal where same-sex marriage is allowed despite just 29 percent of those questioned supporting it.
There are however question marks over the survey's accuracy, including the fact it's two years ago and may not have kept up with public opinion. Ireland, for example, approved gay marriage by 62 percent to 37 percent in 2015, despite the survey's claims to the contrary.