Man flattened by bus heads straight to pub
Comments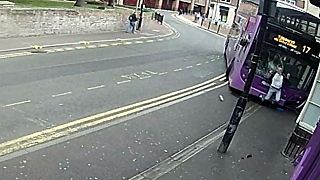 CCTV captured the moment when a man was hit from behind by a double-decker bus as it rounded a corner in Reading, UK.
Simon Smith has just crossed Gun Street when the accident happened.
Unbelievably he got up and walked away after he had been thrown along the pavement. In a quintessentially British response, he dusted himself off and went into a pub. He is believed to have suffered only minor injuries.
Reading Buses have said that the company is investigating the "awful incident". No arrests have been made.