Celebrations in Colombia as FARC disarmament completed
Comments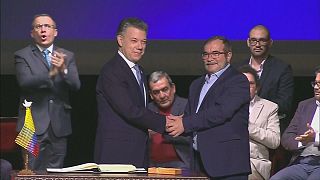 Ceremonies to mark the end of the disarmament of FARC rebels in Colombia are due to be held today.
The United Nations has confirmed that the majority of weapons have been handed over, in accordance with a peace deal with the government.
Talking to Euronews' Global Conversation, the Colombian President Juan Manuel Santos said: "No one ever knows if it's 100% or not, but each member of the guerilla group has registered. They have to sign a pledge that they will never use weapons again. Each weapon is registered. It's a very serious process."
The peace deal signed last year is aimed at ending more than half a century of war.
A small number of weapons will remain in the hands of some rebels for security at s0-called demobilisation camps until they're closed on August the 1st.