Venezuela: opponent warns of rigged vote
Comments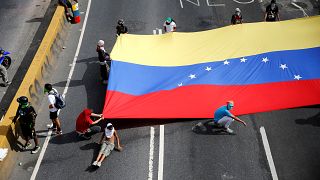 Venezuela's President Nicolas Maduro could rig an election next month, an opponent has told Euronews in an exclusive interview.
Nicmer Evans, one of the country's most famous and outspoken dissidents, said it was likely Maduro would boost his number of votes to retain power.
For more than two months, opponents of Venezuelan President Nicolas Maduro have rallied in Caracas. They are routinely stopped by troops and police, resulting in violent clashes that have left nearly 70 people dead.
Maduro, who was elected after the death of his mentor Hugo Chavez in 2013, says the protests are an effort to overthrow him and blames the opposition for the scores of deaths.
Evans said: "Maduro opposes the constitution which was made by president Hugo Chavez in 1999, which is supported by people.
"Citizens like their actual constitution. The only way that president Maduro, without legitimacy, can keep the power is through a constituent assembly, but he won't go through a referendum.
"With some technicalities they will make out that 25% of the population will have up to 80% of the votes. This assembly will be more important than the parliament. So we will have an endless government, an almighty government which will crush the other powers".
He added: "One of the biggest mistakes was to cry wolf for 18 years, saying that there was a dictatorship. Because when the real dicatorship comes (and it is coming) what are they going to call it ? I believe that oppostion is not connected with the majority of the country. They are just interested in their own political ambition and they just ask Maduro to leave without thinking about a renewal of the society according to the needs of people."