Power supplies to Gaza Strip cut even further
Comments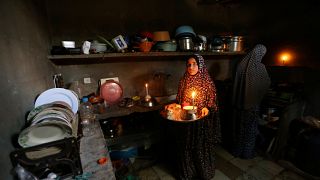 Power supplies from Israel to the Gaza Strip are reportedly being reduced even further, from just four hours a day down to just over three.
This after the Palestinian Authority limited how much it pays Israel for power to the enclave, which is run by Hamas after it seized power there in 2007.
One resident of Khan Younis, Nimeh Zoroub, told reporters: "Where is the humanity? Where is the mercy? They should have some mercy in their hearts for the Palestinian people."
Residents in Gaza are having to use candles to prepare their evening meals that break fasting during Ramadan.
Hamas accuses the Palestinian Authority of making life difficult in order to win political concessions.