Gunman who opened fire on Republican US lawmakers dies after shootout
Comments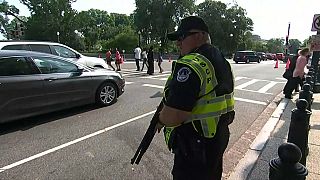 President Donald Trump has announced the gunman who opened fire on Republican US lawmakers has died.
The shooting took place as the Republican baseball team practiced ahead of an annual charity match.
House of Representatives Majority Whip Steve Scalise was wounded in the shooting which took place in the US state of Virginia.
The suspect was a Bernie Sanders supporter who reportedly raged against Trump on social media.
The gunman has been named as James T Hodgkinson from the US state of Illinois.
He had been armed with a rifle and had exchanged fire with Capitol Hill police who were at the baseball match.
He was shot before being taken into custody and later died from his injuries.