'Positive talks' between Conservatives and DUP over power deal
Comments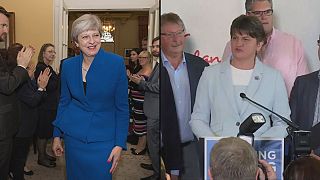 Northern Ireland's Democratic Unionist Party has said it is in "positive talks" over a confidence and supply deal to support Prime Minister Theresa May's Conservative government.
The Tories were left tantalizingly short of an overall majority after the leader's gamble on a snap election backfired.
Now Mrs May is having to seek support from outside her party in order to form a government, with the anti-abortion, and anti-gay marriage DUP being just about her only option.
To add to the leader's woes, Saturday saw two of her closest aides quit, taking the blame for her disastrous electoral campaign.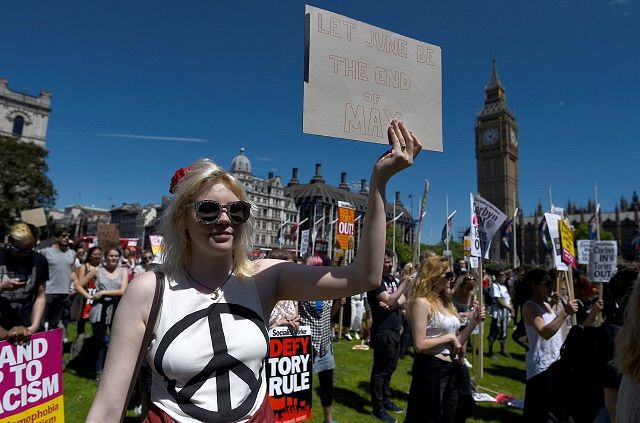 Photograph: REUTERS/Clodagh Kilcoyne
Many in the UK, including some within the Conservative party, have voiced their concerns about a potential deal with the DUP.
The right wing stance of the Northern Irish party on matters such as gay rights, abortion and climate change, have seen many MPs threaten to oppose a deal between the parties.
Some are worried that the DUP would drive a hard bargain in exchange for its support, however no deals will be finalised until next week as they refuse to work on Sunday for religious reasons.
Downing Street confirmed that the principles of a deal between the two parties had been agreed and would be discussed at a cabinet meeting on Monday.
It had earlier said a deal had been reached, but a statement released in the early hours of Sunday morning said an agreement had not yet been finalised.
"The prime minister has tonight spoken with the DUP to discuss finalising a confidence and supply deal when Parliament returns next week," the statement read.
"We will welcome any such deal being agreed, as it will provide the stability and certainty the whole country requires as we embark on Brexit and beyond.
"As and when details are finalised, both parties will put them forward."
Confidence and supply
A confidence and supply deal differs from a coalition government in that it is an agreement whereby a smaller party will support a larger party in motions of confidence and budget votes.
The deal is required in order to form a minority government in the UK.
Parties normally retain the right to otherwise vote in favour of their own policies or on conscience.