UK election: tough times ahead for May and the Conservatives
Comments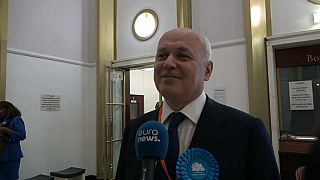 The UK Conservative Party faces a tough few weeks. They may have won the most seats in Parliament, but were pushed much harder than expected. This was reflected on a more local level here in the Greater London constituency of Chingford and Woodford Green. The party's candidate, Bilal Mahmood, referred to Brexit, but also more regional issues as reasons for the apparent sing in voter opinion. He told euronews:
"I think, nationally speaking, this is a very hard reaction to the Tories' proposed hard Brexit, and their gruelling and very difficult cuts on things such as local education, on the NHS and people's welfare. And also, indeed, particularly on pensions."
The topic of the UK's divorce from the EU has barely been mentioned by the Conservative camp. Prime Minister Theresa May campaigned on the basis that a strong Tory vote would give her the mandate to push for a hard Brexit.
The question now is who will be the next prime minister? Sources suggest May is determined to stay put, but Conservative MP and former party leader Iain Duncan Smith kept his opinions on the future close to his chest.
"Well, to be back in government, that's the key. Other than that, I make no predictions," he told euronews.