Ex-FBI boss Comey tells Senate hearing that White House lied
Comments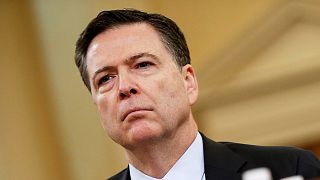 Former FBI Director James Comey told a Congressional hearing on Thursday that he believes he was fired by President Donald Trump because of his probe into alleged Russian meddling in last year's US election.
Comey said he had no doubt that Russia attempted to interfere in the 2016 presidential poll but declined to tell the open hearing of the Senate Intelligence Committee whether he thought Trump had colluded with Russia.
He said the President did not tell him to stop the FBI probe into Russia.
But Comey claims that Trump did request that he drop investigations into ex-National Security Adviser Michael Flynn.
"I just don't buy it": Comey on Trump's explanation for his firing

Watch live here: https://t.co/THlNhXekzkpic.twitter.com/DXhbcKg5t4

— Washington Post (@washingtonpost) 8 juin 2017
Comey explained why he took notes after meeting the President, saying it was down to:
"A combination of things. I think the circumstances, the subject matter and the person I was interacting with.
"Circumstances, first. I was alone with the President of the United States, or the president-elect, soon to be president.
"The subject matter: I was talking about matters that touch on the FBI's core responsibility and that relate to the president-elect personally, and then the nature of the person.
"I was honestly concerned that he might lie about the nature of our meeting and so I thought it really important to document.
"That combination of things I had never experienced before, but it led me to believe 'I gotta write it down', and I gotta write it down in a very detailed way."
When asked if Trump sought to obstruct justice, Comey declined to comment.
He said the president had asked for his loyalty and that the administration told 'lies, plain and simple' after he was fired, by saying the FBI was in disarray.
Who are the people who questioned James Comey? A look at the members of the Senate Intelligence Committee. https://t.co/z3xQHniKbm

— The New York Times (@nytimes) 8 juin 2017
In more than two hours of testimony in the most eagerly anticipated US congressional hearing in years, Comey did not make any major new revelations about alleged links between Trump or his associates and Russia, an issue that has dogged the president's first months in office.
In a speech to supporters across town, Trump vowed to fight on. "We're under siege … but we will come out bigger and better and stronger than ever," he said.
"We know how to fight and we will never give up," the president added.
Trump's personal lawyer, Mark Kasowitz, said Comey's testimony proved the president was not under any investigation and there is no evidence a single vote was changed as a result of Russian interference in last year's election.
Kasowitz denied Trump ever told Comey he needed and expected his loyalty, as Comey said, and also slammed the former FBI chief for saying he leaked details of a conversation with the president.
Trump's Lawyer: "The President also never told Mr. Comey, 'I need loyalty, I expect loyalty' in form or substance." https://t.co/nw4DdW7GzJ

— NBC News (@NBCNews) 8 juin 2017
Kasowitz added that "we will leave it to the appropriate authorities" to determine whether Comey's leak "should be investigated along with all those others being investigated."
Comey's accusations could further mire Trump's administration in legal difficulties, as special counsel Robert Mueller, appointed by the Justice Department after Comey was fired, and several congressional committees investigate alleged Russian efforts to influence the election.
Russia has denied such interference. The White House has denied any collusion.
with Reuters