Is impeaching President Trump possible?
Comments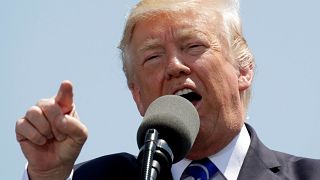 Amid doubts over the sacking of FBI director Comey and attempts to influence the investigation into the Trump campaign, President Trump is facing questions about impeachment. But could this actually happen?
Euronews' US correspondent Stefan Grobe said: ""The president is in a very protected position. Legally only congress has the power to investigate and to prosecute him. But in order to do that you have to have a majority. Now the majority in congress in all Republican. It's not clear clear if this (impeachment) is going to happen before 2018 when the next congressional election will take place.
Now, is there talking in Washington about impeachment? The answer is yes, it's hushed: almost off the record. Republicans are increasingly aware that is something this is something they will have to deal with at some point in the future.
I'm not saying this is going to happen, I'm not saying this is openly discussed. But this is something that people think about".
On Wednesday, Russian President Putin offered to hand a transcript of the meeting between Trump, Lavrov and ambassador Kislyak to the US Congress, to prove that secrets were not discussed, but would this actually help the situation?
Grobe said: "I've heard people members of the Senate intelligence committee saying this is not the way we work. If we need help, we will ask for it. We are gonna see the American documents first, and not rely in Putin's Russia.
This is almost absurd, the idea the Kremlin would support any investigation by providing documents that would help Donald Trump.
In this environment this is rather a bad joke rather than something substantial".