Tehran twin terror attackers 'Iranian members of ISIL'
Comments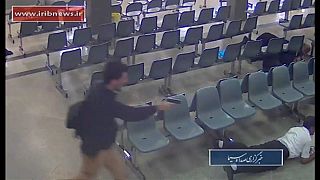 Suicide bombers and gunmen attacked the Iranian parliament and Ayatollah Khomeini's mausoleum in Tehran on Wednesday, killing at least 17 people in an unprecedented assault that Iran's Revolutionary Guards blamed on regional rival Saudi Arabia.
Islamic State claimed responsibility and threatened more attacks against Iran's majority Shi'ite population, seen by the hardline Sunni militants as heretics.
Iranian Foreign Minister Javad Zarif tweeted: "Terror-sponsoring despots threaten to bring the fight to our homeland. Proxies attack what their masters despise most: the seat of democracy."
He did not explicitly blame any country but the tweet appeared to refer to comments made by Saudi Arabia's deputy crown prince, Mohammed bin Salman al-Saud, in May, saying that that Riyadh would bring "the battle" for regional influence to Iran.
Sunni Saudi Arabia denied any involvement in the Tehran attacks, but the assault further fuels tensions between Riyadh and Tehran as they vie for control of the Gulf and influence in the wider Islamic world. It comes days after Riyadh and other Sunni Muslim powers cut ties with Qatar, accusing it of backing Tehran and militant groups.
They were the first attacks claimed by Islamic State inside the tightly controlled Shi'ite Muslim country, one of the powers leading the fight against IS forces in nearby Iraq and Syria.
The deputy head of Iran's National Security Council, Reza Seifollhai, told state TV late on Wednesday that the attackers were people from Iran who had joined Islamic State. Iranian police said they had arrested five suspects