Voting starts in UK after hotly-contested election race
Comments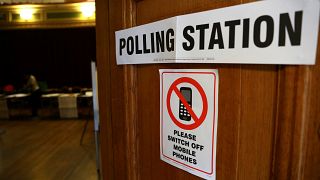 Polling stations have opened in Britain after a hotly-contested election race.
Prime Minister Theresa May began her campaign for the Conservatives with a comfortable margin in the opinion polls, but that lead was whittled away in recent weeks.
The Tory leader called the surprise snap election seven weeks ago, with the hope of increasing her majority in parliament ahead of negotiations on quitting the European Union.
At the moment the Conservatives only have a majority of 17 seats in parliament.
But the campaign had unexpected twists and turns, including the shock of terrorist attacks.
The UK General Election: what you need to know https://t.co/RhcinW0K1opic.twitter.com/zBgX2FwRJS

— euronews (@euronews) June 7, 2017
A poll published on Wednesday by YouGov showed Theresa May with a seven-point lead over Labour.
That was two or three points higher than recent polls, but well short of the 20 percentage points the prime minister enjoyed a couple of weeks ago.
Support was said to be at 42 percent for the Conservatives and 35 percent for Labour.
The final update to our tracker suggests that polls are continuing to narrow in Britain's general election https://t.co/5DsqG8oBMx

— The Economist (@TheEconomist) June 8, 2017
The campaign was overshadowed by terrorism following the recent attacks in Manchester and London, which left 30 people dead and many others injured.
UK row over human rights and terror suspects https://t.co/SNe2taS6I5pic.twitter.com/X3tw4ecsvQ

— euronews (@euronews) June 8, 2017
There was also a deadly attack in Westminster earlier in the year.
The winners and losers of Britain's "first-past-the-post" electoral system https://t.co/5bDs5VtodN

— The Economist (@TheEconomist) June 8, 2017
Labour's Jeremy Corbyn is hoping for an upset for his party after years in opposition.
The debate over Brexit and the future of the UK economy was the focus of heated exchanges between the candidates in this snap election.
Almost 47 million people are registered to vote.
Watch our special coverage about the UK general election live from our Brussels studio https://t.co/UgVZSkOTgTpic.twitter.com/yD54WPaxOa

— euronews (@euronews) June 8, 2017
The most comprehensive guide to Britain's general election, in 24 pages: https://t.co/he3hpH1h4Vpic.twitter.com/QCsn7cUwM4

— The Economist (@TheEconomist) June 7, 2017
5 possible election outcomes and what they could mean for Britain https://t.co/F94etRXOLKpic.twitter.com/t1HxgspyfK

— Mirror Politics (@MirrorPolitics) June 7, 2017
Prime Minister Theresa May of Britain is expected to win a snap vote but her campaign has strengthened her critics https://t.co/7h8cQCsNt4pic.twitter.com/dnU2ZzR8A2

— New York Times World (@nytimesworld) June 7, 2017