Qatar 'terror support' row spreads
Comments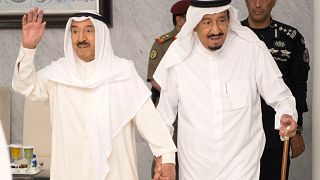 Jordan and the West African country of Mauritania which is a member of the Arab league, have either downgraded or cut diplomatic ties with Qatar in the deepening row over Doha's alleged support for terrorists.
Qatar has for years parlayed its enormous gas wealth and media strength into broad influence in the region. But Gulf Arab neighbours and Egypt have long been irked by its maverick stances and support for the Muslim Brotherhood, which they regard as a political enemy.
The split among the Sunni Muslim states erupted last month after the summit of Muslim leaders in Saudi Arabia, where Trump denounced Shi'ite Muslim Iran's "destabilising interventions" in Arab lands, where Tehran is locked in a tussle with Riyadh for influence.
#UPDATE Saudi Arabia accused Al-Jazeera of promoting "terrorist groups" and supporting rebels in Yemen https://t.co/VyNxIZH9gx

—

AFP

news agency (@AFP) June 5, 2017
Saudi Arabia's foreign minister said on Tuesday that Qatar needed to take several steps, including ending its support of Palestinian militant group Hamas
With several Gulf states joining in the row and cutting transport links, and Qatar responding likewise , there is major disruption to airspace in the region. The campaign to isolate Qatar has also disrupted trade in commodities from crude oil to metals and food, and deepened fears of a possible shock to the global natural gas market, where it is a major player.
Qataris have crowded into supermarkets to stock up on goods, fearing shortages.
Qatar's Foreign Minister Sheikh Mohammed Bin Abdulrahman Al Thani has denied the allegations accusing Saudi Arabia and other states of fabricating stories and of vilifying his country.
Diplomatic row in the Middle East sees Qatar cut off by air, land and sea. https://t.co/c9oIZqlEiY

— Twitter Moments (@TwitterMoments) June 5, 2017
Even though Qatar hosts the largest US base in the region the US State department has said the country could do more to fight terrorism:
"We recognise that Qatar has made some great efforts to try to stop financing of terror groups, including prosecuting suspected financiers, freezing assets and introducing stringent controls on its banking system there, however, let me make this clear, they have made progress but they still have work to do. More work needs to be done," said State department spokesperson, Heather Nauert,
The dispute between Qatar and the Arab world's biggest powers has reopened a festering wound only two weeks after US President Donald Trump called Muslim states to fight terrorism.