Manila casino gunman was 'lone wolf terrorist'
Comments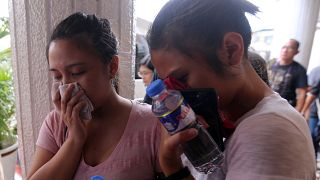 A gunman who stormed and torched a Manila casino, killing 36 people, was a "lone wolf" terrorist, a top Philippines lawmaker said on Saturday (June 3), contradicting the police's assertion that the man had merely wanted to steal gambling chips.
The gunman, whose identity was still unknown, killed himself in a hotel room after being shot by security officers at the Resorts World Manila entertainment complex, police said.
A second "person of interest" who was in the casino at the time is cooperating with the investigation, police said.
Pantaleon Alvarez, speaker of the lower house of Congress and a close ally of President Rodrigo Duterte, said he was not convinced the incident was a criminal case of armed robbery and arson.
"This is a clear example of a 'lone wolf' terrorist attack targeting civilians to inflict maximum loss of life and damage to property, as what has happened in other countries," Alvarez said in a statement.
So-called Islamic State (ISIL) claimed responsibility for the attack, but that was rejected by Philippines officials, who said it appeared to have been a botched robbery.
Duterte's spokesman, Ernesto Abella, said on Friday there was no proof linking it to a protracted urban battle between government troops and Islamist militants in the country's south, while his security adviser, Hermogenes Esperon, said all the evidence pointed to an attempt to steal casino chips.
Reuters