At least 34 dead in Manila casino attack
Comments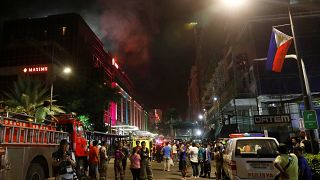 At least 34 people died in the Philippine capital Manila early on Friday after a gunman sowed panic in a casino before killing himself, according to authorities.
Police said the man's motive was likely robbery and that the incident was not terror-related. SITE Intelligence Group, which monitors jihadist news and propaganda, reported earlier that a 'Filipino operative' linked to the self-styled Islamic State had claimed responsibility for the attack.
Philippine police chief Ronald dela Rosa told DZMM radio that the lone gunman burst into the Resorts World Manila entertainment complex, but did not aim his assault rifle at people. Instead he set gaming tables on fire and tried to steal nearly 2 million euros worth of casino chips.
But the gunshots and the blaze caused a stampede and dozens were hurt as they rushed to escape what they feared was a terror attack. Most of the victims were said to have died from suffocation.
The shooting came just as security forces are battling Islamist rebels in the southern city of Marawi. Last month, President Rodrigo Duterte declared martial law on Mindanao island, for fear that extremism could spread further across the country's south.
WATCH: Amateur video shows aftermath at Manila resort following reports of explosions and gunfire https://t.co/DvMJx6Oa77pic.twitter.com/UeKNoos53f

— Reuters Top News (@Reuters) June 1, 2017
In the confusion, one security guard died after accidentally shooting himself, police said.
Dozens more were being treated for smoke inhalation and fractures.
"Don't panic, this is not a cause for alarm. We cannot attribute this to terrorism," Police chief dela Rosa said. He added it was possible that the Islamic State militant group would claim responsibility for the incident for propaganda purposes.
"We are looking into a robbery angle because he did not hurt any people and went straight to the casino chips storage room. He parked at the second floor and barged into the casino, shooting large TV screens and poured gasoline on a table setting it on fire," he added.
Around dawn, the body of the suspected gunman was found in a hotel room in the complex, which is close to Ninoy Aquino International Airport and an air force base. Police said it appeared the suspect had set himself on fire after shooting at officers searching the still-smoking building.
Man who caused panic by firing M4 assault rifle in casino in Manila, Philippines, has killed himself https://t.co/jkT5Jiw4NYpic.twitter.com/777vaNCMGR

—

AFP

news agency (@AFP) June 2, 2017
Police said the gunman was tall with a pale complexion and spoke English.
A spokeswoman for the capital's police office, said 113 million Philippine pesos ($2.27 million) worth of casino chips stolen during the raid had been recovered.