For Sofia football fans, dreams are fragile
Comments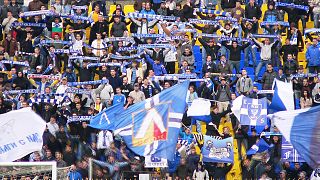 It's been a tough season for Levski Sofia supporters.
A report showed their club was mired in debt, although the new owners claim the accounts are balanced. They don't trust the owners though, having accused them of reneging on investments including promises to build a new stadium.
On-field events have been little better. Last week the players were stripped of their shirts after a humiliating 3-0 defeat against reborn arch-rivals CSKA-Sofia. That loss confirmed that Levski would finish third in the top league and miss out on an automatic place in European competition, as CSKA claimed second spot.
Then came a ray of light – UEFA officially disqualified CSKA from competing in European tournaments and Levski fans rejoiced. European football, and especially the associated financial rewards, would surely now be theirs.
But in Bulgarian football, nothing is given. And the authorities took another path. Levski, they ruled, would have to play off for the Europa League spot.
The saga is a reflection of the uncertainty and fear that have become part of following Bulgarian football ever since the original CSKA Sofia collapsed, declaring bankruptcy in 2015 and ultimately dissolving.
Litex – a football team hailing from the city of Lovech, 150 km from Sofia – took on the CSKA-Sofia name. However while the upstarts managed to humiliate their more established rivals, Fifa and the Bulgarian football league decided that the club was not sufficiently longstanding to qualify for European tournaments.
All season, Levski fans have lived under the shadow of the collapse of CSKA and have been battling with Spas Rusev, who acquired a majority stake in their team last year, to secure the investment to guarantee its future. A power struggle between the new owner and the club's fans, who are minority shareholders, has also complicated Levski's decision-making process and divided loyalties.
Rusev, who received Levski's majority stake for free, has stated that he would, in turn, give away his shares to "someone who has a vision for Levski."
Meanwhile fans are anxiously awaiting the results of Sunday's crucial playoff against Vereya to see whether they can indeed win back the European place they throught they had already gained.
Even if they do, the future is far from certain.
By Daniel Vodenitcharov