Crisis-torn Venezuela to hold constitutional referendum
Comments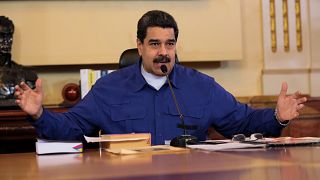 Venezuela's President Nicolas Maduro is to hold a referendum on a new constitution following two months of at-times violent and deadly protests.
In a statement on state television, the socialist leader said the people would be the ones to decide whether or not they agree with a new, strengthened national charter. No specific date for the vote has been announced.
Maduro's initial plan to create a constituent assembly saw him labelled a dictator. Opponents and members of the government alike criticised the idea as anti-democratic.
The ballot is likely to turn into a vote on Maduro himself. A brutal economic crisis under his rule has swung the stakes in the opposition's favour. Polls suggest it now has majority support for the first time in years.
Maduro vows referendum on new Venezuela constitution I https://t.co/Fk27dAVVQ0pic.twitter.com/7x5FBhMcvU

— Reuters Venezuela (@ReutersVzla) June 2, 2017