EU-China Summit: high hopes for climate, trade and investment accords
Comments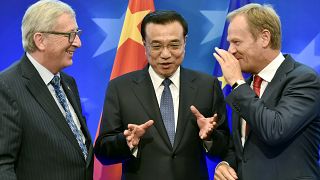 Disillusioned with protectionism and the US government's rejection of the low-carbon economic model, the European Union is hoping China pledges to stick with the climate change agreement during a two-day summit in Brussels (June 1-2).
It's a deal that is also in China's interest, according to Xinning Song, a professor at Brussels Academy for China-EU Studies.
"China has very big problem of air pollution, especially in Beijing. And, also, I think the policy for China domestic's economic development is very clear: green economy is one of the priorities of China's policy," he said.
Trade and investment are also on the agenda. Europe has accused Beijing of predatory pricing and says the government has interfered in the economy.
But, according to the European Parliament, the EU now looks more open to accelerating an Investment Agreement, which has been under negotiation since 2013.
Euronews spoke to MEP Jo Leinen, the head of the European Parliament's delegation for relations with China.
"We are looking for fair trade and fair competition and, therefore, we look ahead for the Investment Agreement and a climate declaration that deepens our cooperation. We should not talk too much about ideologies but more on practical solutions," he said.
Counter-terrorism, cybersecurity and diplomatic efforts to manage the nuclear threat from North Korea are also up for discussion between the two partners.