UN chief makes climate change plea
Comments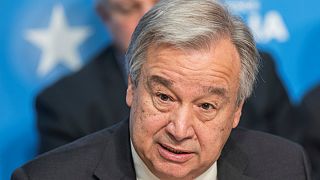 UN Secretary-General Antonio Guterres has spoken of the need to intensify action to combat climate change and implement the measures agreed by nearly 200 nations at the Paris Agreement to limit carbon emissions.
He made his position clear:"If any government doubts the global will and need for this accord, that is reason for all others to unite even stronger and stay the course."
I call on world leaders, business & civil society to take ambitious action on climate change. pic.twitter.com/wl19gZYecm

— António Guterres (@antonioguterres) May 31, 2017
His plea comes in the week US President Donald Trump is due to make a decision on whether the US is to remain within the accord, strongly supported by previous president Barack Obama.
The journey from Paris is well under way & the support across all sectors of society is profound – antonioguterres</a> <a href="https://twitter.com/hashtag/ParisAgreement?src=hash">#ParisAgreement</a> <a href="https://t.co/xygsUuTDVR">pic.twitter.com/xygsUuTDVR</a></p>— United Nations (UN) May 30, 2017
To date 147 countries have ratified the agreement to limit the global temperature rise to below 2 degrees Celcius.
Spicer says he has not specifically asked Pres. Trump if he believes human activity contributes to climate change https://t.co/6MZJ1ovbOH

—

NBC

News (@NBCNews) May 30, 2017
Guterres says the deal is historic, but needs to go further.
The Secretary-General plans to hold a climate summit in 2019 to review the implementation of the Paris Agreement.