Eagle's plunge nets 360-degree view of Benfica's stadium
Comments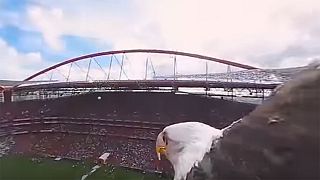 This is the remarkable footage after Portuguese football giants Benfica attached a 360-degree camera to its mascot.
It shows the club's eagle circle over the pitch before swooping to land in the centre circle.
The video brings a technological twist to a Benfica tradition: the eagle flies over the stadium before each home game.
Benfica, who won their fourth successive domestic title this month, released the footage on its Facebook page before fans sent it viral.
To navigate the 360-degree video, above, hold and move the left mouse button over the screen.