Vladimir Putin shows little appreciation of Emmanuel Macron's speech
Comments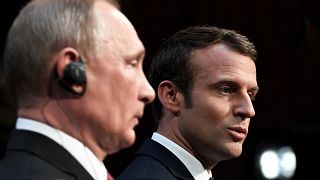 After keeping the world waiting more than an hour for his press conference with new French president Emmanuel Macron, Vladimir Putin didn't seem too interested in what his counterpart had to say.
Whether the subject was the work of Russian emperor Peter the Great; the treatment of lesbian and gay communities; or the French election, the president appeared to have other things on his mind.
Maybe it's just because he's done so many of these world leader press conferences that he's learned to switch off. Maybe he really did want to show that he's not impressed by Emmanuel Macron.
But whatever it was, the body language Putin was giving off didn't suggest he had hit it off with the latest arrival to the G7 leaders club.