From fairytale to nightmare as Little Mermaid doused in red paint
Comments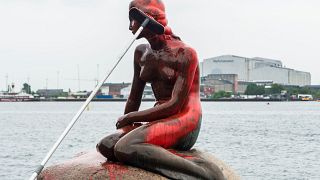 The cleaning of Copenhagen's Little Mermaid statue, which authorities say was vandalised by anti-whaling activists, features in our pictures of the day for Tuesday, May 30.
Denmark's most-famous landmark was covered in red paint with a reference made to whaling in the Faroe Islands.
Whaling is allowed near the islands, which lie between Iceland and Denmark, and are a self-governing territory of the latter.
Also among our best images from today are taxi drivers in Madrid protesting against Uber and Cabify, which they say represent unfair competition.
Browse our other picks of the day, below.