Donald Trump handshake a "moment of truth" says Emmanuel Macron
Comments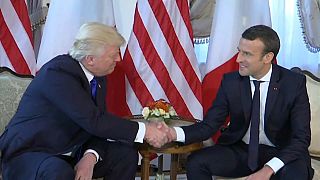 Emmanuel Macron said his handshake with Donald Trump before a NATO summit was a sign of the intent of his new presidency.
Speaking to the French newspaper Dimanche he said he wanted to show that he did not even make small concessions.
The newly-elected French President said he was determind to be no pushover with his American counterpart.
"My handshake with him is not innocent, it is not the alpha and the omega of a policy but a moment of truth," said Macron.
"We must show that we will not make small concessions, even symbolic ones, he added."
Trump's handshake and alpha male behaviour have been widely reported in the press, notably his 19-second handshake with the Japanese leader Shinzō Abe and pushing the Montenegro leader Dusko Markovic