Massive migrant rescue off Italy as G7 ended
Comments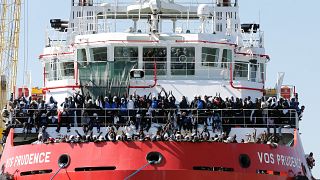 As the G7 leaders arrive home after their summit in Sicily, some 1500 migrants have been taken ashore in Naples by the charity Doctors Without Borders.
It is a stark reminder of the migration issue that Rome wanted to highlight during the G7, deliberately choosing a hilltop location overlooking the Mediterranean.
Some 45 Children and 140 women are among the migrants rescued. Two bodies are also being brought ashore.
The latest rescue came as NGOs complained that even though the G7 was held close to where so many migrants have drowned, the summit produced no concrete solutions.
Italy is one of the countries still struggling to cope with the influx of migrants.
Roberto Barbieri, from Oxfam Italy, told reporters: "Migration is really a big issue, because we are in a situation in which 65 million people are displaced or refugees. That is the biggest number ever since the Second World War.
"We have a huge responsibility towards these people. This a nation. Somehow this is the hidden nation.
"Security alone can not be the approach. We need to look at long-term perspectives."
Italy had unsuccessfully pushed for the summit to agree on more legal options for migration and focus more on food security to deter people setting off on dangerous journeys to Europe.