Dancing pandas and walking trees welcome royals to Chelsea Flower Show 2017
Comments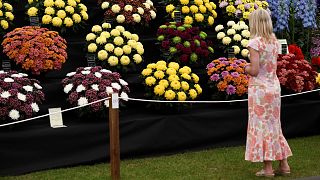 One of the premier events on the UK's social calendar opened its doors this week to royalty, celebrities and thousands of lucky ticket holders.
The Chelsea Flower Show, held in the exclusive London suburb of the same name, is where the best and bravest garden designers and florists come each year to display their talents and compete for coveted gold medals.
A favourite of the British Royal Family, the show was visited by the Queen, Prince Philip and the Duchess of Cambridge. They were greeted by 3-metre tall walking trees, dancing pandas, troupes of child dancers and singers and models posing in the gardens.
Ironically, as Britain prepares to leave the EU, Chelsea 2017 has had an international feel. The landscapes of China, Japan, Canada, Mexico, Spain and Malta have been spectacularly brought to life in show gardens. From a moated garden inspired by Kyoto's Imperial Palace, to the Chengdu Silk Road Garden, to British designer James Basson's monumental recreation of a Maltese quarry, which scooped the Best in Show award.
With huge limestone blocks towering 10 metres above a sunken pool, smaller limestone blocks and trees and flowers native to Malta, Basson's garden for M&G Investments is one of the largest ever to be built at Chelsea.
It has been controversial, with some pundits questioning whether this is a garden or an art installation.
Basson brushed off the criticism, describing the garden as a distillation of nature.
Loved or not, Basson's garden has attracted considerable press coverage in Malta. He hopes that it will encourage developers to turn many of the island's disused quarries into conservation areas, instead of landfill sites.
Basson – British born but based in the south of France – is keen to point out that his garden shows EU partnership at its best. He talks about the sharing of skills and knowledge that helped create the garden.
Broadcast to the world, the Chelsea Flower Show has always influenced garden trends. Encouraging wildlife into city gardens is a theme of Chelsea 2017. Designer Kate Gould has created a garden which she hopes will make city dwellers rethink how they use their outside space.
Gould's 'City Living' garden offers ideas on how to turn city terraces into tranquil green spaces, enjoyed by people as well as bees and butterflies. Built on three levels, the garden was one of the most expensive to construct in its mid-size category.
But with no sponsor backing her, Gould had to foot the six-figure bill herself. She describes it as a 'marketing expense', but clearly one she hoped to avoid.
Gould's reward for her bravery was a gold medal and took first prize in its category.
If 2017 was the year of international gardens, it was also the year when sponsorship dried up.
Sponsors have shied away from paying the hundreds of thousands of pounds needed to create the biggest show gardens. There are half the number of large show gardens this year than in 2016.
Does this herald the beginning of the end for the world's premier flower show? Show organisers, the Royal Horticultural Society, masked the empty spaces by commissioning a series of gardens inspired by the five senses.
Other than Basson's show-stopping exhibit, the crowds were delighted by the increased range of small gardens on display this year. At a fraction of the cost of the main gardens, these intimate designs were generally well-supported by charities and businesses alike.
Until the sponsors return, small may become beautiful at future Chelsea flower shows. The dancing pandas and walking trees may need to find alternative employment.
Story by Kit Peel
Full photo album