Maduro pushes ahead with his 'constituent' congress
Comments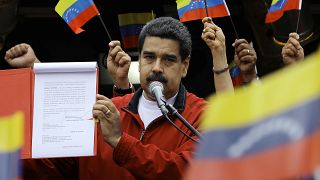 Pro-government supporters in Venezuela have marched in support of their president's plans for a new constituent assembly.
Nicolas Maduro has vowed to push ahead with the replacement congress despite dissent within his own ranks and major protests across the country.
Maduro has now signed regulations setting out the voting process.
Addressing his supporters Maduro detailed how the new assembly will be partially elected by votes at a municipal level and partially by different groups, including workers, farmers students and indigenous people.
He has presented the move as a response to a popular desire for votes and not bullets, claiming its the opposition which has delayed regional elections.
The assembly will later be instrumental in writing a revised constitution for the country.
The head of the pro-government electoral council confirmed that voting for the new congress will be held some time in July while regional elections, meant to be held in 2016, will take place on December 10.
How Did Venezuela Go From So Rich To So Poor? https://t.co/Gix7e3ONls
(radio)

— Alicia Hernández (@por_puesto) May 24, 2017
Meanwhile government critics have once again clashed with police on the streets of Caracas.
Opposition leaders say Maduro's project is a sham designed to avoid a presidential vote next year and to keep Maduro in power despite a ruined economy.
At least 53 people have been killed as a result of the unrest that began in early April.
Venezuela has finally set a date for elections. But they'll probably just get canceled anyway https://t.co/C9ZG5fiCvJ

— Hannah Dreier (@hannahdreier) May 24, 2017